A note from our President, Chad
I started NH iPhone Repair in 2011 out of my college dorm room. It was my Freshman year at Plymouth State University and I cracked my phone screen. While looking for a shop to get it fixed, I noticed there were several things missing from the repair shops that were currently operating in the area. I knew I could take my knowledge of electronics and grow a dependable and reputable shop where customers would feel comfortable getting their personal and professional devices repaired.
Out of that experience, NH iPhone Repair was born. Here we focus on providing quality repairs at a fair price, all done with the best customer service in the area. Whether your iPad has a cracked screen, your phone went for a swim or your Samsung device isn't holding a charge, we make the process of getting your device as good as new, as quick and stress-free as possible. These days we know getting your device fixed is not a luxury, but a necessity that takes time out of your busy day. At NH iPhone Repair we respect your time and your schedule and make it an easy and enjoyable experience.
-Chad Johansen, Founder & President of NH iPhone Repair
Why NH iPhone Repair?
We're Glad You Asked.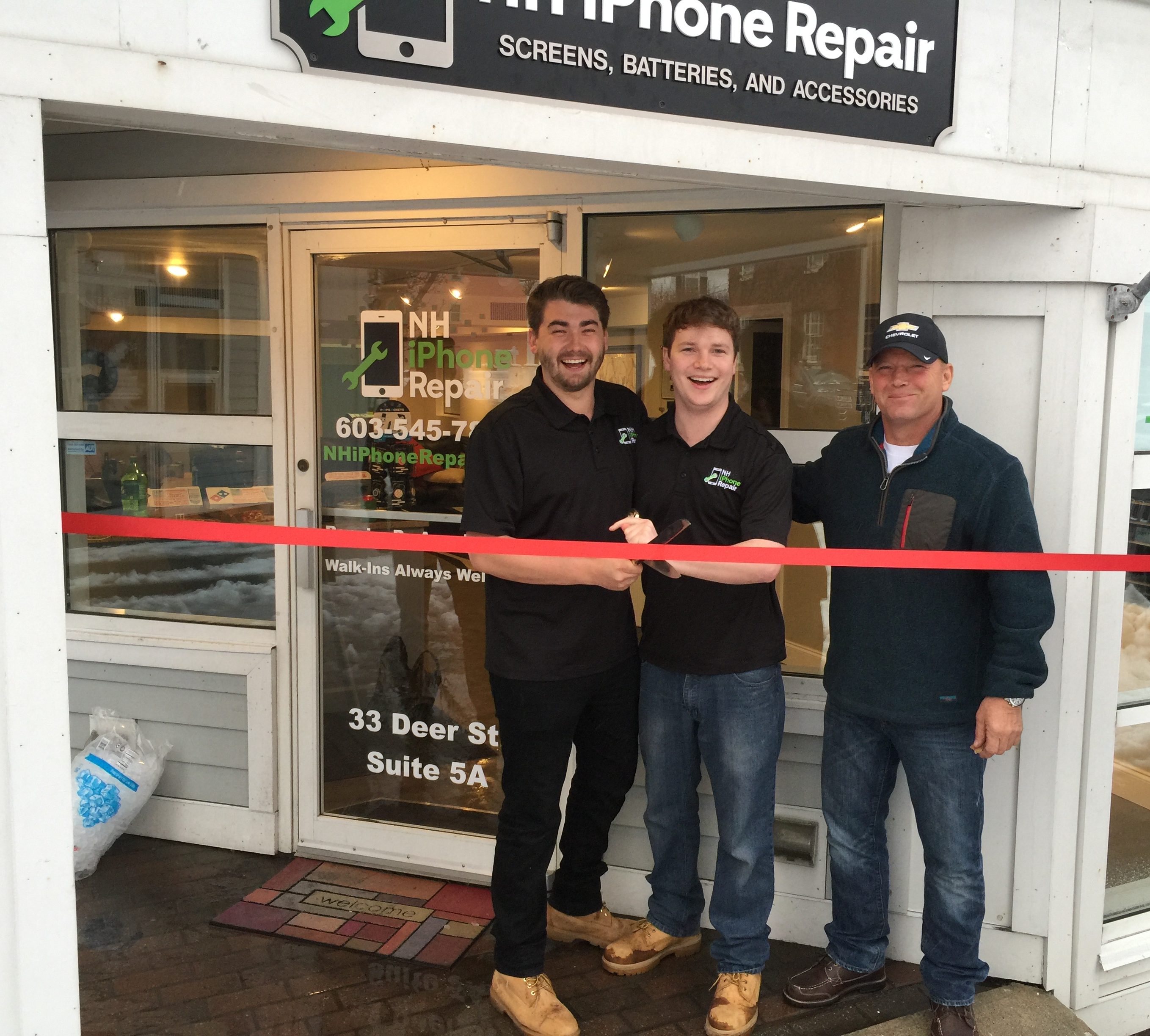 Here at NH iPhone Repair we understand that accidents happen. Every month we see over 1,000 broken iDevices come through our doors. Ranging from screen replacements to new batteries to water damage, NH iPhone Repair has the experience, knowledge and parts for a fast, quality repair!
Experience
With mobile devices breaking everyday and customers needing these devices fixed, NH iPhone Repair does all kinds of repairs daily; anything from a broken screen to a charging issues, NH iPhone Repair can do it all. You can trust your repair to be done in a responsible and safe way.
Lifetime Warranty
Backing up our high grade parts is our industry-leading warranty! If you experience ANY problems with our repair parts, after ANY amount of time, NH iPhone Repair will correct the problem, no questions asked*. This not only offers an added bonus, it gives you peace of mind knowing that we stand behind our products 100%! Visit a store for more info about our lifetime warranty.
Quality
Using high quality parts in the only way NH iPhone Repair does it. Our replacement parts are top-of-the-line and come with a lifetime warranty! After the repair, you will feel like you just bought a whole new device!
Price
What you see, is what you pay. With NO hidden diagnostic fees, labor fees or added on extras. NH iPhone Repair can tell you exactly what you will pay when you drop off your device for your repair.
NH iPhone Repair vs. The Competition
While we know there are many options for your device repair, NH iPhone Repair has built it's name on quality service and parts that you can depend on. What you see for pricing on our website, is what you pay. No surprises or changing prices when you come in. Trustworthy, reputable and dependable is what we are about here at NH iPhone Repair.
|   | NH iPhone Repair | Amazon & eBay | Apple Store | Competitors |
| --- | --- | --- | --- | --- |
| Quality | Highest Quality | Low Quality/Faulty Parts | Highest Quality | Various Lower Quality |
| Warranty | Lifetime | None | One Year | 90 Days |
| Repair Times | While You Wait | DIY 2+ Hours | By Appointment +3 Hours | Hours to Days |
Go Green! NH iPhone Repair responsibly recycles every part they repair. From iPad glass to iPhone LCDs and batteries, you can rest assured knowing that your repair is not adding to the growing amount of e-waste put into landfills!
Amazon & eBay Parts
Amazon and eBay have many options for iPhone and iPad screen repair kits. While prices for these kits run at a lower cost , the overall process may end up costing much more than getting a repair through NH iPhone Repair.
NH iPhone Repair understands why customers may go for these kits, but please understand that many of these parts are low quality with no support behind them. NH iPhone Repair only carries the highest quality parts with a lifetime warranty behind every one of their repairs.
For something you depend on everyday, don't risk damaging your device by doing a DIY repair. Trying to save a couple of dollars can end up costing you much more than having a professional do the repair for you! Feel free to call with any questions!
*Our warranty covers issues with replacement parts not caused by you, such as a faulty touch screen. Any physical damage, such as cracked screens or liquid damage, voids our warranty.
What Our Customers Are Saying
"Really genuine high quality parts and a service with a smile. I had my iPhone 7 screen replaced at the mall where they put in a fake low quality replacement (low touch sensitivity). These guys replaced it in 10 min and I can see the difference."
- Sanjeev, Customer
"Wish I could give 10 stars. First of all customer service is EXCELLENT!! I have been there several times as I have a teenager who is constantly damaging his phone and each time they have fixed the phones while I wait. They are very knowledgeable and they dont try to sell you parts you do not need. I would never bring my phone anywhere else for repairs. Very impressed."
- Sam, Customer
"I've been to NH Iphone repair many times and I can't think of another business that you go to because you've broken something and it's going to cost you money and no one wants to spend extra money but,They pull it off. Great business and better people. Chad's amazing, He's like the son I never had. Keep up the good work..."
- Sally, Customer
"Clearly a 5 star business. I had a cracked Ipad screen. I live near Concord. I went to two places near me to see what they had to say and walked away sensing their lack of care or professionalism. I walked into NH iPhone repair and was treated as the lost valuable customer. Had my screen replaced within the hour at a reasonable cost."
- John, Customer
Bedford Grove/Panera Plaza
7 Colby Court, Unit 2
Bedford, NH 03110
Mon-Fri: 10 am to 7 pm
Sat & Sun: 10 am to 4 pm
Marshall's Plaza
1465 Woodbury Ave.
Portsmouth, NH 03801
Mon-Fri: 10 am to 7 pm
Sat & Sun: 10 am to 4 pm
Attached to Dunkins
227 North Broadway
Salem, NH 03079
Mon-Fri: 10 am to 7 pm
Sat & Sun: 10 am to 4 pm
Bedford Grove/Panera Plaza
7 Colby Court, Unit 2
Bedford, NH 03110
Mon-Fri: 10 am to 7 pm
Sat & Sun: 10 am to 4 pm
Marshall's Plaza
1465 Woodbury Ave.
Portsmouth, NH 03801
Mon-Fri: 10 am to 7 pm
Sat & Sun: 10 am to 4 pm
Located in the Eppicenter
96 Calef Highway
Epping, NH 03042
Mon, Tues, Thurs Fri: 10 am to 6 pm
Sat & Sun: 10 am to 4 pm
Wed: Closed
Attached to Dunkins
227 North Broadway
Salem, NH 03079
Mon-Fri: 10 am to 7 pm
Sat & Sun: 10 am to 4 pm
Nashua
Somerset Plaza Shopping Center
375 Amherst St.
Nashua, NH 03060
Mon-Fri: 10 am to 7 pm
Sat & Sun: 10 am to 4 pm
Manchester
Located in Moe Joe's building.
649 East Industrial Park Drive, Unit 13
Manchester, NH 03109
Please call
Open by appointment
Located in the Eppicenter
96 Calef Highway
Epping, NH 03042
Mon, Tues, Thurs Fri: 10 am to 6 pm
Sat & Sun: 10 am to 4 pm
Wed: Closed
Manchester
Located in Moe Joe's building.
649 East Industrial Park Drive, Unit 13
Manchester, NH 03109
Please call
Open by appointment
Nashua
Somerset Plaza Shopping Center
375 Amherst St.
Nashua, NH 03060
Mon-Fri: 10 am to 7 pm
Sat & Sun: 10 am to 4 pm